Do you suffer with stress, anxiety, poor sleep, poor self image and low esteem?
Do you often find you have negative thoughts and emotions?
Do you have aches and pains in the body from lack of movement or just perhaps lost your get up and go?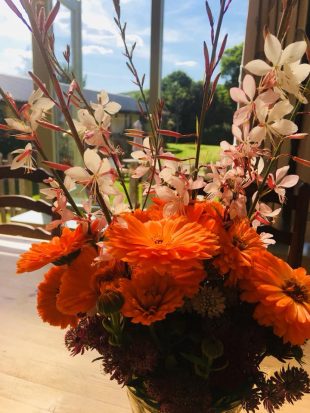 I believe that we all deserve to feel good and balanced in our daily lives but sometimes we lose our way, as sometimes the demands of work/families/friends/people pleasing take over
So, would you like to become more positive, sleep better, move with more ease to help you find daily situations easier to deal with, become more productive and feel that you are generally happier and healthier?
With a choice of therapies to choose from, from the gently soothing touch from body massage to energy healing treatments, Gong sound therapy, Yoga and Pilates work this is a holistic approach for the whole body and the mind
Gong Sound Bath
The frequencies of sound can affect us on a deeper cellular level and influence how we feel and move.
A gong sound bath (which means bathing in the sounds of the gongs – so no water is involved) uses the vibrations and frequencies to help reduce stress, tension, aches and pains and create a sense of peace and well being.
I play the gongs intuitively in a therapeutic way and they are amazingly powerful at bringing about a state of relaxation.
As everyone can have a different experience I cannot tell anyone what to expect from a session. Even within a group session its still all very personal which again makes the gongs just wonderful instruments.
Contact me to discuss your needs and book in –  
I offer private sessions 3 people maximum from my home in Rawmarsh S62 and group sessions monthly at Harley Village Mission Rooms, S62 7UD
Yoga and Pilates
Take time to breath, stretch and focus the mind. With the Yoga and Pilates sessions they are great for reducing stress and anxiety and will leave you feeling calm, relaxed and rejuvenated. Learn how your body moves and feels as you work on increasing your flexibility and release tightness in the muscles.
I now teach only at JD Gyms in Rotherham where its members only.
Massage Therapy
Full Body, Back, Neck and shoulders, Scalp, neck and shoulders, Legs….all available for massage.  Whether you are looking for a lighter relaxing or a deeper tension releasing treatment book in for a massage or choose the hot stones option that will give your body and mind a boost.
All treatments from my home in Rawmarsh, S62 – Use the contact me form to book in
Energy Healing
In various forms Reiki, Crystal, Spiritual Healing work all brings in the universal energy that is channelled through me to work for your highest good.
Use the Contact me form to discuss your needs and book in